Healthy Drinks with Honey
Healthy drinks with honey have been used for health benefits for centuries. Honey is a sweet fluid made by honeybees utilizing nectar from flowers. People throughout the world have hailed the medical advantages of honey for thousands of years.
However, in this era People want to be healthy and fit. So today everyone wants specific recipes that are good in taste as well as healthier. Add honey in your daily life to make your body healthy and fit.
Hence, they started reducing the intake of sugar and instead honey is used.
Below are some of the recipes for healthy drinks with honey with their benefits: –
Honey with lemon

Honey Water

Honey With Milk

Honey in smoothies

Ginger tea with honey and lemon
1.Honey With lemon
This is one of the most liked recipes by the people. It is also called a morning drink.
As simple as the name recommends, you should simply fill your glass with warm water, get some lemon juice into it, and add 1-2 teaspoons of honey. This drink is very beneficial for those people who want weight reduction and detox overall.
Benefits of Honey with Lemon –
It helps to detox the body

It helps in weight loss.

It helps to improve your immunity.

It aids digestion
Honey with water
This is one of the simplest drinks where you need warm water and simply add honey into it and mix it well. Healthy drink is ready.
Benefits of Honey with water –
It is good for Digestion

It helps to Boost energy

It helps to lose weight

It helps to make skin glowing.
3.Honey with Milk: –
As the warm water is perfect to start the day Similarly, where honey with milk is the perfect way to end the day.
Simply just mix the honey with warm milk before going to sleep.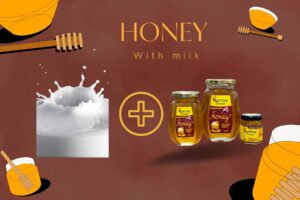 Also, if you want to add more flavor you can also add Cardamom, cloves, vanilla to the drink. It will be a perfect addition to the drink.
Benefits of Honey with Milk –
It improves bone health.

It helps to treat insomnia.

It fights stress.

It Fastens healing.
4. Honey in smoothies –
When talking about healthy drinks, Smoothies are also one of the best ways with honey that is good in taste and healthy as well.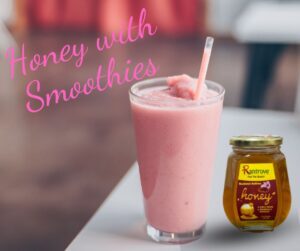 Simply just add the favorite fruit & veggie and blend it with some superfoods and instead of adding sugar honey will give a good taste.
As adding honey into the smoothies it will increase the health properties.
As per the ingredients we can make smoothies for weight loss, for weight Gain and many more.
Benefits of Honey in smoothies –
It helps in aids of digestion

it helps to aids muscle repair

It will also increase the nutritional properties.

Honey also turns the bitter smoothies into sweet.
5. Ginger tea with honey and lemon: –
 While, if we are talking about ginger tea it has various health benefits. Many people love the flavor of ginger tea and make it more interesting by also adding honey into it.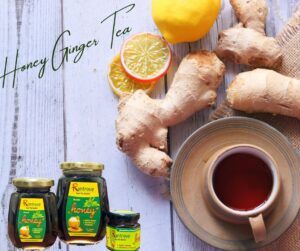 Simply need a cup of water before it begins to boil add ginger into it.
Just as it starts boiling add tea leaves and after that add a few drops of lemon and honey into it. Strain and also enjoy the drink.
  Benefits of Ginger tea with honey and lemon –
It helps for the relief from Nausea.

It is good for weight loss.

It also helps to improve Immunity.

It helps to reduce the risk of Cardiovascular and also Liver Disease.
In conclusion,
If you are dragging through each day, you should try honey and feel the good health and the energy that comes from honey and other additional ingredients. Remember, Health is our biggest asset in our lives.
Our Social Media Channels is Instagram, Facebook, Youtube, Pinterest.